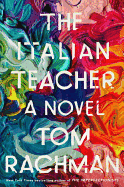 Canadian-English author Tom Rachman (The Rise and Fall of Great Powers) writes narratives that crisscross the globe. The Italian Teacher is a bittersweet novel that brings to mind Rachman's fellow Canadian Robertson Davies. It begins in 1950s Rome, then hops back and forth across the Atlantic as it follows the life of a man on the edge of greatness.

Charles "Pinch" Bavinsky grows up in Rome as the son of Bear Bavinsky, a prominent American avant-garde painter in the early 20th century, and Natalie, an aspiring artist whose life and work are put on hold by Bear's overwhelming personality and the demands of motherhood. As his parents' relationship collapses, Pinch begins to find his own artistic voice, learning from his capricious father and devoted mother as he attempts to make his own way. But The Italian Teacher is ultimately about failure: Pinch's dreams, sabotaged by himself and others, never come to fruition. The novel examines how Pinch deals with those failures, how they shape his life and how he, through his own acts of sabotage, comes to make peace with them.

Readers may finish The Italian Teacher feeling wistful and nostalgic, a high mark for any book, and that is proof of Rachman's talent. Pinch is more than just a vessel where the novelist can examine art from the mid-20th century. His losses and compromises with reality leave the reader with a pang for what might have been. This book is a wonderful, heartbreaking read. --Noah Cruickshank, adult engagement manager, the Field Museum, Chicago, Ill.