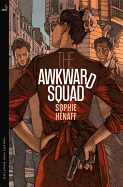 Aptly named, The Awkward Squad is a funny French police procedural full of misfits. The commander is Anne Capestan, who fired one too many bullets in the line of duty. Rather than letting her go and having to deal with political fallout for dismissing police officers, the higher-ups have decided to put Capestan and a handful of other misfits together in one squad--where they can't do any harm. Stuck with a cop whose runaway bestsellers featuring loosely disguised coworkers have angered fellow officers, a jinxed officer who's lost multiple partners and an elderly inebriant, Capestan begins digging through the cold case files to find something for her team to do.

They happen upon two murders: an elderly woman who was killed in her home, and a French sailor who survived a ferry disaster in the Mediterranean only to be found floating in the Seine. Neither case seems to have been particularly well investigated, so the awkward squad sets to work in their own unusual style. And when a new murder appears to have links to one of the other cases, Capestan realizes that maybe the cases aren't so cold after all.

Funny, lighthearted and full of charming Parisian details, The Awkward Squad is perfect for readers of international crime novels. The antics of Capestan and her team will keep the reader hoping for their success, and looking eagerly for a new entry in this series to be translated into English. --Jessica Howard, bookseller at Bookmans, Tucson, Ariz.