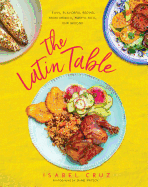 Isabel Cruz (Isabel's Cantina), West Coast chef and restaurateur, is a pioneer of Latin fusion food. In The Latin Table: Easy, Flavorful Recipes from Mexico, Puerto Rico, and Beyond, she updates and simplifies more than 100 recipes so that anyone can enjoy the exuberance and flavors of Latin food at home.

Cruz opens with memories and photographs from her childhood, admitting to an early distaste for Puerto Rican fare. How she learned to love the food and culture of her family and understand its relevance in the U.S. is a heartwarming introduction to the delicious recipes that follow.

The dishes reflect her West Coast roots, creatively blending Latin and Asian flavors in such recipes as Crispy Tofu Tacos with Ginger Sambal, Avocado and Pickled Onion, and Seared Ahi Tostadas with Avocado. Each recipe is introduced with a short anecdote or additional information so that Cruz is right there in the kitchen, talking to and encouraging the home cook. The recipes use simple ingredients and most will be available in larger grocery stores. Of particular interest to those looking for ways to add Latin flavors into their regular rotation dishes is the chapter on sauces and salsas. Orange-Oregano Dressing and Cruz's own Isabel Sauce can be used on everything from salads to meats to fish.

Home cooks can complement a meal with Latin drinks such as Blackberry Chili Margarita or Beet and Mango Liquada. Breakfast and desserts aren't forgotten either, making The Latin Table a full course of delicious meals. --Cindy Pauldine, bookseller, the river's end bookstore, Oswego, N.Y.