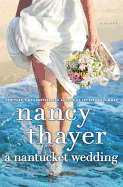 Nancy Thayer (Secrets in Summer, Between Husbands and Friends) is one of the undisputed queens of the summer beach read. Perfect for fans of Elin Hilderbrand or Mary Kay Andrews, A Nantucket Wedding is lovely, light and summery. The story begins with Alison, now happily engaged to David, the owner of a cosmetics company. She never thought she'd marry again after the death of her beloved husband a few years earlier. Since her wedding is just a few months away, she wants to connect her two grown daughters--Jane and Felicity--with David's adult children.

She invites all of them to come to David's Nantucket beach house as often as possible that summer. Jane, a high-powered Manhattan attorney, seeks refuge from her marital problems in the island's calm; Felicity, whose save-the-earth husband keeps their family strictly vegetarian, revels in eating steak and escaping from her kids. But Alison worries that David's son, Ethan, is trying to seduce both of her daughters. What's worse, she is struggling to connect with her soon-to-be-stepdaughter, Poppy, who resents Alison's presence in David's life.

Believable, laugh-out-loud funny and delectably entertaining, A Nantucket Wedding is a charming story of a mature bride and the complicated dynamics involved in merging two families. Thayer does an excellent job of conjuring a peaceful Nantucket summer, and the not-so-peaceful emotions lurking beneath the surface for Alison and her daughters. --Jessica Howard, bookseller at Bookmans, Tucson, Ariz.