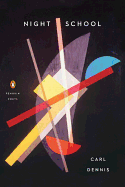 Poet Carl Dennis has made Buffalo, N.Y.'s eastern shore of Lake Erie his home for 50 years. He has published some dozen books, which have earned him Pulitzer and Lilly Prizes, and both Guggenheim and NEA Fellowships.

Night School is another stellar collection from this quiet master of formalist narrative verse centered on the kind of middle-class, hardworking people that might call Buffalo home--who might indeed get a leg up by taking courses at night school. There's Ernie from Ernie's Red Hots in "Fast Food," for example, who offers simple hotdogs to customers who "needn't be rich/ To afford a meal that will leave them feeling/ They've received, for once, far more than they expected." That "for once" says it all.

Riding on the cadence of the plainspoken and rolled out in language both familiar and unexpected, Dennis's poems are consistently rewarding--the kind you want to read out loud to everyone around you at Dunkin Donuts. Always thoughtful, they are prolific with lines that stop you in your tracks--like these of the narrator of "Two Lives" who walks a maple-lined path: "Musing on the difference between a life/ Deficient in incident and a life uncluttered." Carl Dennis is a national treasure, and Night School is an excellent representation of what makes him so. Don't miss it. --Bruce Jacobs, founding partner, Watermark Books & Cafe, Wichita, Kan.