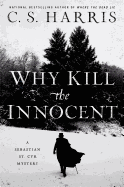 Why Kill the Innocent, the darkly atmospheric 13th entry in C.S. Harris's Sebastian St. Cyr series, captures the drama and intrigue of the British royal household in 1814. The nation, brought to its knees by 20 years of war and a brutally cold winter, bitterly resents its extravagant "Prinny"--the Prince Regent. As he spends wildly on palaces and parties, the people of England are freezing to death, and anger is rising.

Lord Sebastian St. Cyr is heir to an earldom, but his wife, Lady Hero, has a strong social conscience. She is headed out with a midwife friend to attend the birth of an impoverished woman when she trips over the body of a gentlewoman. Lying dead in the Clerkenwell snow is Jane Ambrose, a gifted musician and the piano teacher of Princess Charlotte, the only daughter and heir of Prinny.

Sebastian and Hero set to work to untangle the strange threads in this case: Who would want Jane dead? And why did they leave her body in this insalubrious part of London? Was it Jane's connections to the royal family? Or does the answer lie closer to home with Jane's possibly unfaithful husband?

As the questions mount and the snowbanks pile higher, the St. Cyrs will have to race against the evidence-eliminating weather while competing with the royal family's desire to hush up any scandals. A perfect blend of Elizabeth George and Georgette Heyer, Why Kill the Innocent will appeal to both mystery and Regency readers, with its intricate plotting and historical detail. --Jessica Howard, bookseller at Bookmans, Tucson, Ariz.