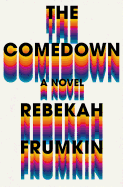 Rebekah Frumkin's first novel, The Comedown, wanders into a dark labyrinth of tangled relationships between two Ohio families--the Jewish Bloom-Mittwochs and African American Marshalls. Prefaced with a useful guide to their family trees of marriages, divorces, affairs and children, the novel is like a three-part ensemble play, with chapters focused on each of the dozen principal characters as their lives intersect over the rocky course of the last 50 years.

The Marshall patriarch, Reggie, is a hustler and drug dealer from Cleveland's Hough neighborhood, where a black man in the 1970s has limited options. Heading the Bloom-Mittwoch clan, Leland Sr. is one of Reggie's regular customers. A survivor of the 1960s drug scene and anti-Vietnam War demonstrations (including the nearby Kent State National Guard shooting), he never shakes his quest for the perfect high.

Early in the novel, Leland Sr. takes a suicidal leap off a building in Tampa in 1999, and Reggie takes a bullet to the head at his massage parlor headquarters in 1973. Frumkin is not so much interested in the ultimate fates of her characters as she is in the role of fate in determining the directions their lives take. As Leland Sr.'s first wife tells their son Leland Jr., "No real purpose to it all, just waves you either crested or were crushed by."

With graduate degrees from the Iowa Writers' Workshop and Northwestern's Medill School of Journalism, Frumkin writes with both satirical flair and vestiges of observational reporting. The Comedown is a talented debut from a novelist with a sharp eye. --Bruce Jacobs, founding partner, Watermark Books & Cafe, Wichita, Kan.