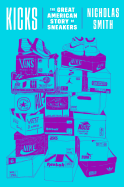 Before we were defined by our Converse Chucks, Adidas Stans, Puma Clydes and Nike Jordans, canvas-and-rubber shoes were the footwear of choice for British croquet ladies and were called Plimsolls. After rubber entrepreneur Charles Goodyear developed vulcanizing in 1844, to prevent soles from melting in the summer heat, cheap waterproof "sneakers" began their ascent from kids' PE shoes to their arrival on NBA hardwood, Fashion Week runways and the BET Hip-Hop Award stage.

In Kicks, journalist Nicholas Smith recounts the eclectic history of this ubiquitous slice of Americana. Sneakers may have made their first sport appearance on croquet lawns, but their widespread adoption followed the rise of competitive games like tennis, basketball, track and field, and long-distance running. Smith credits the Converse Rubber Shoe Company with the marketing breakthrough of celebrity endorsement when it put its former basketball player and salesman Chuck Taylor's name on its shoe and sent him on the road pitching his kicks--what Smith calls "playing Johnny Basketballseed."

After the success of Converse Chucks, no shoe could capture market share without some kind of star power seal of approval. The big brands courted sports hotshots like Michael Jordan, championship teams like the 1954 West German World Cup winner, underground heroes like skateboarding's Dogtown Z-boys and music luminaries like Run-DMC. Smith runs down many tangents of this $18 billion market and the frequent ups and downs of its global players. An offbeat history of the athletic shoe world with cameo biographies of those who built it, Kicks is a sneakerhead's dream. --Bruce Jacobs, founding partner, Watermark Books & Cafe, Wichita, Kan.