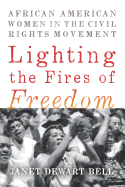 Formatted as a series of testimonials, Janet Dewart Bell's Lighting the Fires of Freedom highlights African American women from across the United States and throughout socioeconomic classes who participated in the civil rights movement. Some, like Kathleen Cleaver, took a radical approach to changing the world through her leadership in the Black Panthers. Others, like Aileen Hernandez, worked with unions and in government at the Equal Employment Opportunity Commission to build a better future. Without editorializing, Bell places these stories alongside each other to show the movement's many facets.

Dr. June Jackson Christmas, like Hernandez, opted into government, but much of her story in the book concerns being one of the first black women at Vassar. Through this profile, Bell suggests that Christmas's breaking into the ivory tower deserves the same attention as Cleaver's work in revolutionary politics and Hernandez's in union organizing.

But Bell also pays attention to women whose stories have been crowded out by those of the men in their lives. Cleaver is one, as is Myrlie Evers-Williams, whose husband's murder has long obscured her work for the early NAACP and fight for justice.

Lighting the Fires of Freedom is meant to bring untold stories to the fore, a complementary piece to other, broader looks at American history regarding race. Bell reminds readers that one story is never enough to truly explain a movement. --Noah Cruickshank, adult engagement manager, the Field Museum, Chicago, Ill.