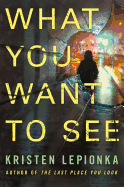 Kirsten Lepionka (The Last Place You Look) has created a tired, yet defiant, private investigator who fits her name, Roxane Weary, all too well. When interior designer Marin Strasser's fiancé, Arthur, becomes convinced that she's having an affair, he hires Roxane to follow Marin. Marin turns up dead a few days later, with Arthur as the prime suspect in the shooting, and Roxane finds herself answering unfriendly questions from old cop buddies of her late father.

Determined to get to the bottom of the case--partly for Arthur's sake and partly because she's too stubborn to let it go--Roxane keeps digging into Marin's life. She finds a string of dark secrets: from Marin's arrests for shoplifting to her several previous marriages to her ne'er-do-well son. Then, to Roxane's surprise, Arthur himself is gunned down, and suddenly not only Roxane's life but also the lives of some of the people closest to her are at risk.

Nuanced and intriguing, The Last Place You Look brings to life the seamy side of Columbus, Ohio. Roxane's many complications--a whisky habit, a flaky ex-girlfriend and her strained relationship with her father's former best friend, with whom she's been sleeping--make her a compelling character. The mystery that Roxane slowly pieces together is smart and surprising, and will appeal to lovers of noir and those who enjoy cases that aren't open-and-shut. Sure to rank among the pantheon of hardboiled PIs, Roxane Weary is not to be missed. --Jessica Howard, bookseller at Bookmans, Tucson, Ariz.