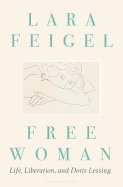 After producing several engrossing nonfiction titles (
The Love-charm of Bombs
,
The Bitter Taste of Victory
), writer and lecturer Lara Feigel turns inward in
Free Woman
to craft a story of self through her exploration of Doris Lessing. In the aftermath of a miscarriage, Feigel revisits Lessing's 1962 novel,
The Golden Notebook
, and is both fascinated by and feels a connection to the novel's investigation of motherhood, sexuality and female liberation. Feigel dips in and out of her own life and Lessing's novels, personal letters and biography to explore these themes, which seem to define not only the woman who has captivated her, but also Feigel's own life and times.
Feigel treats the close readings of Lessing's novel and life with tenderness and compassion. While the biography she puts forward is factually interesting, the emotional nuance and ambivalence she imbues it with elevates her portrait of Lessing to one of intimate importance, for the reader as well as the writer. Stylistically,
Free Woman
is elegantly written, gracefully balancing Feigel's depth and breadth of research with her incisive, personal perceptions and awareness. Feigel's treatment of Lessing's less admirable qualities, such as her decision to abandon her children and her dedication to the Communist Party in Stalin's wake, is particularly strong, as she neither shies away from critique nor ignores the complex and justifiable nature of Lessing's actions. Confronting such issues offers the opportunity to raise the book's best and most impossible questions about what freedom can mean to a person, a woman, a lover and a mother. --
Alice Martin
, freelance writer and editor