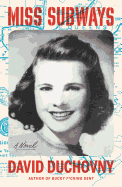 Riffing on the Irish myth of Emer and Cúchulainn, Miss Subways by David Duchovny (Bucky F*cking Dent) tells an age-old tale of love lost and found. Emer, a native New Yorker, lives with her narcissistic boyfriend, Con. But one night when he's out with another woman, Emer is visited by Sid, who foretells Con's death unless Emer strikes a bargain to save his life. She agrees to let Sid wipe out their memories of their life together in order to save him. Afterward she has a nagging sense of loss and "as her dreams became more real, her reality became less so." When she runs into Con again, the meeting is a catalyst for a series of transformational events for Emer and those around her.
Emer moves through New York City trying to piece together her increasingly fragmented reality. She thinks she might have two lives--"the conscious one and the dream one playing in separate movie theaters in her mind." Emer discovers that mythological beings live in the city alongside humans, and her contact with them forces deeper thought about the meaning of life and love. Deities of every culture and belief system present themselves to Emer as if their collective wisdom is what she needs to solve the puzzle: Is she experiencing real life or a hallucination? Is there a difference? She doesn't know, and neither does the reader, lending an elusive, mystical feel to this highly original, multi-layered story. --
Cindy Pauldine
, bookseller, the river's end bookstore, Oswego, N.Y.