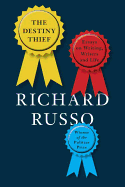 Richard Russo's first collection of essays--in a career of more than three decades that includes a Pulitzer Prize for his 2001 novel, Empire Falls--is an insightful blend of excellent writing advice, revealing memoir and cogent literary criticism.
One of his recurring themes here is the writer's search for identity and a true voice. In the title essay, he wrestles with the choice between an academic career and life as a novelist; he initially resisted grounding his fiction in the small towns of upstate New York, like Gloversville, where he grew up. In the book's concluding essay, "The Boss in Bulgaria," he considers his resolution to concentrate his literary career on "a patch of dirt about the size of Faulkner's"--something at the time that "felt like nothing so much as defeat." This he links to his struggle to provide meaningful counsel as the featured guest at a writing conference for young Bulgarian writers, seeking their own voices in a country only recently freed from Communist control.
Russo (Empire Falls) departs from the dominant personal tone of most of the pieces to appraise the work of what appear to be two writers for whom he has a particular fondness--Charles Dickens and Mark Twain. In describing Dickens's first novel, written when he was 24, Russo is impressed by "how sure-handed and confident a writer the young Dickens already was." He's not quite as effusive in his praise for the nonfiction of Twain, but he's an unabashed admirer of the "witty, playful exuberance" of the writer's storytelling.
Richard Russo's wise, hard-earned counsel to aspiring writers on other subjects that include humor, point of view and the demands of a writing career only enhances the value of
The Destiny Thief
. --
Harvey Freedenberg
, freelance reviewer