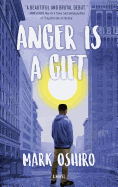 Moss's father was shot by the Oakland police six years ago. "He was coming out of a convenience store... didn't hear the order from the cops to put his hands up. Got shot, and died right there." Turns out, the police were on the "[w]rong end of 12th Street." The shooting sparked rallies and protests, giving Moss a kind of "weird celebrity status." Now a teenager, Moss suffers from anxiety and the long-term effects of trauma. He doesn't want to be famous or to be an activist--he simply wants to be able to exist safely as a black teen.
It's the beginning of Moss's junior year and he and his diverse group of friends realize that the school's lack of funds is hindering their studies, while implicit racism and classicism are influencing their school lives. As students illegally download books for English class, they face random locker searches and, eventually, metal detectors at the school's entrance. When a freak accident with one of those metal detectors injures one of Moss's friends, he moves beyond thinking--"caring is all I can do"--and steps into activism. A bright spot in "all of it" is Javier, a Latinx teen who boldly asks Moss out on the train. Both are inexperienced when it comes to dating, and they happily stumble into first love together.
Anger Is a Gift
feels like the next natural step in contemporary young adult realism--there are several incredible books that candidly and tenderly portray police violence against black youths; Oshiro's debut shows what happens next. It shows the slow, painful process that is recovering from and living with trauma. It shows how a life can be irrevocably altered (or lost altogether) due to a "mistake."
Anger Is a Gift
, and so is Oshiro's arresting, nuanced work. --
Siân Gaetano
, children's and YA editor,
Shelf Awareness