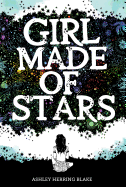 In her senior year at a performing arts school in Tennessee, Mara McHale has her hands and heart full trying to manage schoolwork, the feminist group she founded as a freshman and her relationship with her "best-friend-turned-girlfriend-turned-ex-girlfriend," Charlie (who is in the process of coming to terms with and being defined as nonbinary). What Mara does not anticipate is being forced into having to choose between her twin brother, Owen, and her other best friend, Hannah. But when Hannah accuses Owen of raping her, that's exactly the nightmare Mara finds herself in, aware that "[t]o believe one person is to disbelieve another." Either alternative is unbearable. The situation with Owen and Hannah drives Mara's own past experience with sexual assault to the fore, and she must confront the painful complexity of being a friend, a sister and a victim: "It's a tangled mess of simple facts, a kaleidoscope of right and wrong. The aftermath--that's what's complicated."
Ashley Herring Blake (
How to Make a Wish
;
Suffer Love
;
Ivy Aberdeen's Letter to the World
) is a powerful model for young adult readers who are looking for a voice of their own.
Girl Made of Stars
is exquisitely nuanced, exploring the thorny issues and feelings around sexual assault, gender, sexuality and communication. As a deeply committed feminist, Mara has always believed in trusting survivors' stories, especially because "no one ever believes the girl." The support and understanding Mara and her friends share as they go through the unthinkable allows each to deal with the situation with a very human kind of grace: "[T]his tightrope of love and anger, compassion and hate, is awkward and precarious. Maybe it will be for a really long time." Indeed it will. --
Emilie Coulter
, freelance writer and editor