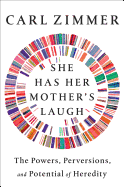 She Has Her Mother's Laugh: The Powers, Perversions, and Potential of Heredity is an ambitious study of popular science from Carl Zimmer, the author of books such as Parasite Rex and Evolution. This one is a lengthy look at heredity from a number of angles, paying close attention to both the scientific discoveries that have illuminated the mechanics of heredity and the cultural history of heredity. Zimmer seeks to broaden the reader's definition of it as more than "the genes that parents pass down to their children."
That is not to say that he doesn't give genetics its due. In fact, he's perfectly willing to use himself as a guinea pig, having his genome sequenced and interpreted by scientists. However, Zimmer also pays attention to less familiar versions of heredity, including the process by which a single cell gives rise to an entire individual. He writes about our microbiome, which, in species of animals and plants, undergoes a "cycle of renewal" that "looks a lot like heredity." Moreover, Zimmer describes some of the ways human beings have tinkered with their genetic destiny, writing at length about the potential of the gene editing CRISPR technology.
She Has Her Mother's Laugh
contains plenty of sobering reminders about the way scientific or cultural concepts of heredity can be abused, with chapters on the history of racism and eugenics. Nevertheless, these dark chapters, too, elucidate the complex story of heredity recounted in this extraordinary book. --
Hank Stephenson
, bookseller, Flyleaf Books, Chapel Hill, N.C.