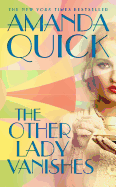 Whether she's writing as Amanda Quick, Jayne Ann Krentz or Jayne Castle, the author of The Girl Who Knew Too Much knows how to spin a suspenseful and romantic tale. Quick's Burning Cove series is set during Hollywood's glam 1930s. The trendy place for all of the biggest celebrities to rest and relax, the California resort town is also the new home of Adelaide Blake, who fled a private sanitarium, where she was incarcerated against her will by her former husband.
Working in a tea shop, blending herbal teas for the stars, Adelaide becomes intrigued by widowed businessman Jake Truett, who is supposedly in town for a rest cure for exhausted nerves. Then the psychic Madame Zolanda, immensely popular among the Hollywood elite, falls to her death mere hours after predicting a bloody death would take place that night. Adelaide and Jake find the body, and Adelaide is immediately reminded of events that took place at the sanitarium.
Clearly something dark is happening in Burning Cove, as actors, moguls and mobsters all try to leverage Madame Zolanda's death to their advantage. Adelaide and Jake work together in an effort to figure out who killed Zolanda and how it connects to the dark experiments being done at the sanitarium.
Fast-paced, romantic and set in a vivid, bustling world,
The Other Lady Vanishes
is a perfect beach read, sure to appeal to lovers of historical fiction and romance alike. --
Jessica Howard
, bookseller at Bookmans, Tucson, Ariz.