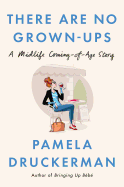 American ex-pat and author of Bringing Up Bébé, Pamela Druckerman applies her wit and insight to life in one's 40s, the awkward transitional decade when many individuals shift out of their youth but don't quite enter old age yet. The mother of three says, "I've noticed that men only appraise me on the streets of Paris now if I'm in full hair and makeup." And waiters have shifted from calling her "mademoiselle" to "madame." Determined to understand this disorienting stage, she delves into the finer points of being a grown-up as she travels the winding road of a 40-something adult.
At times she turns up the humor, as in a chapter about arranging a threesome for her husband as his birthday gift, which turns into a freelance assignment for an American magazine. But There Are No Grown-Ups is equally full of heartfelt insights and revelations. Druckerman shares her battle with cancer and celebrates the success of her book. She acknowledges goals she'd like to reach but hasn't quite accomplished yet.
Throughout the book she receives advice and she imparts it. She examines the mysterious decade with sincerity but never takes herself too seriously. Candid and spirited, Druckerman takes the fear out of 40. She offers those facing this decade reason to anticipate it positively, and those who are currently experiencing it--or already have--plenty to reminisce over.
There Are No Grown-Ups
assures everyone, "
vous allez trouver votre place
--you will find your place." --
Jen Forbus
, freelancer