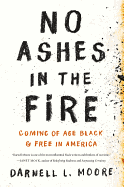 Darnell L. Moore grew up black and economically disadvantaged in Camden, N.J., a predominantly African American and Latino city that he later came to see as "willfully forgotten" by elected officials. But Moore diverged from the mainstream in another, less visible way: he was gay. No Ashes in the Fire: Coming of Age Black and Free in America traces why, having first kissed a boy at age nine, Moore waited a couple more decades to come out proudly.
Born in 1976, to teenage parents--a stalwart mother and a violent father--Moore was harassed, and worse, by neighborhood kids who suspected that he was gay. Intellectually precocious, Moore had to ask his middle-school principal to put him in AT, or "academically talented," classes. He attended a private high school, having filled out the application himself, and then Seton Hall University, a largely white Catholic college where racial profiling was the norm; it was at Seton Hall that Moore became what he calls "politically black." After he earned his degree, he found his calling in advocacy for the disenfranchised and in activism on behalf of progressive causes.
"What childlike magic did he use to make it through?" Moore, now an editor with advanced degrees in theology and clinical counseling, wonders about his young self in his prologue.
No Ashes in the Fire
isn't an "uplift memoir" in which a kindly outsider develops a marginalized child's potential. "You can't write!" a teacher once told Moore. This book says otherwise, and resoundingly. --
Nell Beram
, author and freelance writer