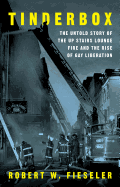 On Sunday, June 24, 1973, a fire set on the outside steps of a New Orleans gay bar caused a harrowing inferno, taking 32 lives. Journalist Robert W. Fieseler salvages this unsettling moment in American history from the edge of forgetfulness in a remarkable, potent remembrance.
From its outset, Tinderbox distinguishes the Up Stairs Lounge fire from other galvanizing incidents in the fight for gay rights. For starters, there is no evidence that this was a hate crime, but rather "most likely... a disgruntled bar patron exacting revenge upon a rival gay clique." Moreover, the Gay Liberation uprising that followed was led largely by outsiders like Troy Perry, founding pastor of the gay-friendly Metropolitan Community Church (MCC) in Los Angeles.
Fieseler crafts an evocative, even romantic, portrait of gay life before the fire. Against a sultry summer backdrop, he details the lives of men in their element and men in love. The Big Easy fostered a laissez-faire closet for the gay community; while open homosexuality was despised, the rowdy French Quarter often turned a blind eye to the private liaisons of neighbors.
That disinterest, though, became maddening in the aftermath. Newspapers addressed the tragedy obliquely if at all. Neighboring churches turned away MCC's pleas. Civil rights organizations ghosted. Investigators dragged their feet and fumbled evidence. Live and let live turned on a dime to "Did you hear the one about the flaming queens?"
With amiable prose, Fieseler transforms rigorous research and the moving testimonies of survivors into a vital, inspiring volume in the annals of gay history. --
Dave Wheeler
, associate editor,
Shelf Awareness