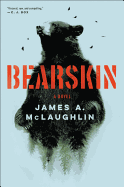 If an environmental scientist wants to be alone to study an undisturbed native ecosystem, the family-owned Turk Mountain Nature Preserve in Virginia's Appalachians is not a bad place to be. If he needs to hide from a vindictive Mexican cartel sicario 2,000 miles away, on the Arizona/Sonora border, its 7,000 fenced acres seem ideal. As the protagonist of James McLaughlin's near-perfect first novel, Bearskin, 34-year-old Rice Moore is that guy. With his old hippie family boss living in California, a new alias and the Preserve's rotary phone unplugged, the brooding, reclusive Moore thinks he is safely off the grid. But one summer morning, a mysterious, one-armed mushroom picker silently emerges from the woods to lead him to the skinned, mutilated carcass of a bear.
Much as natural beauty can mask predator/prey violence, McLaughlin's lush descriptions of the native flora and fauna of Moore's mountain domain, the "fecund riot of chest-high bluestem and orchard grass," seductively create what could be a setting out of Elizabeth Gilbert's The Signature of All Things. With Moore's discovery of more mutilated bears, however, a tale of natural science and rugged independence soon becomes one of hillbilly crime and poverty, of "trailer homes behind fixer-up muscle cars and four-bys on blocks," of tweakers poaching bears to sell their paws and gall bladders to rich Asians.
A land conservation lawyer with an MFA from the University of Virginia, McLaughlin helped manage his family's 1,500-acre preserve near the state's Jump Mountain. And with
Bearskin
, he has carefully crafted a tale of mystery, ecology, backwoods mysticism and downright evil--a consummately skillful debut. --
Bruce Jacobs
, founding partner,
Watermark Books & Cafe
, Wichita, Kan.