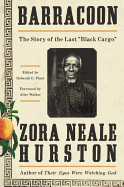 Zora Neale Hurston's Barracoon: The Story of the Last "Black Cargo," written in 1931 but unpublished until now, blends autobiography, history and folklore to tell the story of the life of Cudjo Lewis. Born Kossola in what is now Benin and sold into slavery at age 19, he was the oldest known survivor of the last ship to bring enslaved people to the United States. In 1927, Hurston recorded his story.
Hurston's original text merges with a substantial introduction by Deborah G. Plant to shore up, clarify or complicate Kossola's narrative and related events. Still, Kossola takes center stage. His recollection of life as a "tree of two woods... grown together" moves with heft and certainty. While his vernacular may be a challenge for some, using his spoken word is an act of respect. Barracoon's strength is its emphasis on the power of witnesses and testimonies; converting his words into standard English would have lessened the storyteller and the historical moment.
Although Hurston and Kossola's relationship is a small part of Barracoon, it's arguably its heart. Communing with Hurston over shared peaches and steamed crab, Kossola slips in and out of reverie. At times he's overcome with emotion, and Hurston regrets having come to "worry this captive in a strange land." She listens to him speak of the dead and of needing to tend his garden, of matters both spiritual and mundane. When not sending her away, he enjoys her company.
The name Kossola means "my children do not die anymore."
Barracoon
promises his permanence. --
Shannon Hanks-Mackey
, freelance editor and managing editor at the
Black Scholar