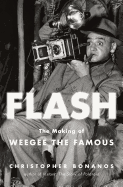 Before there was even a word for photojournalism and the front page of the New York Times was still mostly a text-only eye test, Ukrainian immigrant Usher Fellig staked claim to the handle "Weegee the Famous" and nightly prowled the streets of New York City shooting crime scenes and disasters. Across from what was the back door of the Centre Street Police Headquarters building, he kept his 4x5 Speed Graphic camera and flashgun beside his iron cot, ready to go whenever the sirens sounded. In his Weegee biography, Flash, journalist and New York magazine editor Christopher Bonanos (Instant: The Story of Polaroid) uncovers the man and hard work behind the camera.
If he made his mark with graphic crime scenes (what Weegee described as "one good murder a night, with a fire and a holdup thrown in"), it was his shifting attention to the onlookers and backgrounds of the scenes that lifted his work from the pages of the Daily News or Mirror to his first showing at the Museum of Modern Art. As Bonanos notes, Weegee became "a messenger from the indecorous parts of the city to its nicer ones."
In
Flash
, Bonanos conversationally chronicles the wild life and weird ways of this early practitioner of photojournalism and street life photography. Well-illustrated with many examples of his iconic shots, it is an assured, authoritative picture of the man who called himself Weegee the Famous. --
Bruce Jacobs
, founding partner, Watermark Books & Cafe, Wichita, Kan.