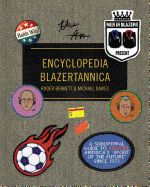 Roger Bennett (Rog) and Michael Davies (Davo)--together known as Men in Blazers--post a weekly podcast, host regular television shows on NBCSN and produce soccer-themed short films. Their output is a mix of hard soccer analysis and inside humor, the latter of which is most evident in this, their first book.
Both British transplants, they are highly entertaining and extremely funny. Rog is the post-Dennis Miller King of References--some literary, some pop-culture. He wanted to relocate to the U.S. for multiple reasons, including a mild obsession with Molly Ringwald. Davo often ends up playing the straight man with drier and subtler humor.
Men in Blazers Present Encyclopedia Blazertannica covers the cultures of international and U.S. football (soccer) clubs, but also such important subjects as players' neck tattoos, facial hair and mullets. They share Portuguese phrases they picked up when they covered the 2014 World Cup in Rio: Estou sem dinheiro. Sequestra ele ao inves de mim. ("I have no money. Kidnap him instead.") They imagine a Game of Thrones Ultimate Starting XI: Daenerys Stormborn is, of course, a striker, and Hodor, the keeper. And they give good advice on celebratory knee slides: when to abort (on AstroTurf) and when to add a flourish (in the rain).
Their claim that this is the "first book jacketed in tweed" appears valid. The book will be appreciated most by their GFOPs (Great Friends of the Pod), an intensely loyal fan base, familiar with MIB's lexicon. However, given the wide range of entries in
Blazertannica
, it will prove enormous fun for all soccer fans. --
George Carroll
, editor, litintranslation.com