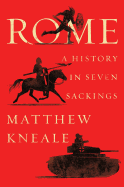 Rome isn't just a millennia-old city. It's been the seat of multiple empires, moments that changed world history and, of course, a battle ground. In Rome: A History in Seven Sackings, British author (and resident of Rome) Matthew Kneale looks at the history of the city through some of its darkest hours, using its near-destructions and resurrections as a novel way to deconstruct how the city became one of the most important in the world.
Starting with a Gallic invasion when Rome was barely a city, Kneale skips across the centuries, following Roman, then Catholic, then Italian disputes with neighbors, other empires and each other. He keenly provides background on each conflict while also painting a lively portrait of what the city was like during those periods. Even as he describes war and death, Kneale keeps things rather upbeat, making sure that the book is not one gigantic slog (though his final chapter on the Nazi invasion does leave a bitter aftertaste).
Throughout
Rome
are wily popes, vicious warriors from Central Europe, desperate Holy Roman Emperors and the people of the city themselves. More than anything, Kneale is best when describing the circumstances a common Roman would experience during the seven sieges described. It's rarely good news, but that underscores the author's larger point about the city: Romans truly have seen it all. This is a perfect book for those interested in a quick, fun introduction to the city's past. --
Noah Cruickshank
, adult engagement manager, the Field Museum, Chicago, Ill.