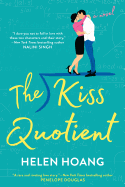 Helen Hoang's straight-laced heroine in The Kiss Quotient is Stella Lane, a successful Bay Area econometrician in her 30s reluctantly searching for love. Stella is clueless about men and the idea of dating is terrifying, but her traditional mother has already made it clear that she wants grandchildren and Stella is a most obedient daughter.
The Kiss Quotient is not a typical romance novel because Stella is not your run-of-the-mill romance heroine. She has a high functioning form of autism, also known as Asperger syndrome, which is a serious social handicap for her. Being autistic is great for her job--work is comforting and she spends her weekends hunched over her office computer--but it's a disaster for her personal life. As in, she doesn't have one. Stella has a hard time reading social cues, she doesn't like to touch or be touched, she gets easily overstimulated and can't deviate too much from her daily routines and obsessions.
Stella's quest for a romantic relationship leads her to hire Michael, a professional escort, to teach her the skills she lacks in attracting a mate. Happily for the reader, Michael breaks through what one might expect of a male escort; his relationship with Stella is a series of engaging twists and turns that offer seismic shocks in the most delightful and entertaining of ways.
Autistic heroines are rare, especially in romance fiction. Stella's story contributes to a newly enlightened era where autistic girls and women can see themselves represented in a variety of literary genres.
The Kiss Quotient
is a gratifying read for anyone perplexed by complex, unspoken rules governing affairs of the heart. --
Shahina Piyarali
, writer and reviewer