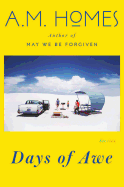 There is much to praise about A.M. Homes's varied story collection Days of Awe, her first since 2002's Things You Should Know. Wired into the zeitgeist, she's both a keen observer of some of the more absurd aspects of contemporary American life and someone who's not afraid to explore the boundaries where real life morphs into fantasy.
Homes's archetypal characters resemble the members of the Los Angeles family who appear in "Hello Everybody" and "She Got Away." They eat in restaurants that serve "designer-size macrobiotic bites" and pass entire meals staring at their cell phones, while "occasionally and without warning they will speak randomly and out of context." But for all their trendy affluence, one of them feels "drenched in aloneness, the cologne of empty, the odor of nothing."
The best of Homes's stories take a familiar situation and give it a bizarre twist. That's true of "A Prize for Every Player," where Tom, Jane and their two children embark on what appears to be a routine Saturday morning shopping trip at a Costco-type store. But this outing takes on an eerie aspect when one of the children discovers an abandoned baby atop the towel display; meanwhile, Tom's observations in front of a bank of televisions inspire his fellow shoppers to promote him as a presidential candidate. In barely 20 pages, it's a telling satire of our consumer culture and current political moment.
Unlike many story collections whose appeal lies in some unifying theme,
Days of Awe
's pleasure emerges from its embrace of the unexpected. Turn the page and you never know what you may find. --
Harvey Freedenberg
, freelance reviewer