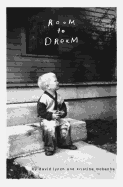 Filmmaker David Lynch notoriously eludes talking about his work, so a nearly 600-page memoir is quite a surprise. In an effort to create a definitive biography, Lynch and coauthor Kristine McKenna have produced Room to Dream, a tantalizing hybrid of biography and autobiography. McKenna, who interviewed more than 100 people, writes the straightforward biography chapters offering perspectives from ex-wives, producers, cast and crew members. A chapter by Lynch follows, elaborating on the preceding material, sometimes disagreeing but always offering colorful extra details. The clever back-and-forth concept creates a more panoramic view than most biographies achieve.
Lynch's first feature-length film, Eraserhead, took five years to complete and became a midnight movie favorite that caught the eye of Mel Brooks. Brooks hired him to helm The Elephant Man and it became a surprise mainstream hit, earning Lynch two Oscar nominations. His next film, an adaptation of Frank Herbert's Dune, was a critical and box office disaster. "Failure is a beautiful thing," writes Lynch, "because when the dust settles there's nowhere to go but up, and it's a freedom." That freedom allowed him to create Blue Velvet, Twin Peaks, Wild at Heart, Mulholland Drive, Inland Empire and other quirky projects.
Lynch is a maverick filmmaker who has found popularity by staying true to his often warped and disturbing vision of the world.
Room to Dream
shares where those ideas came from, but it also celebrates his decades-long friendships and his love of romance. Film buffs will delight in this compelling and illuminating memoir. --
Kevin Howell
, independent reviewer and marketing consultant