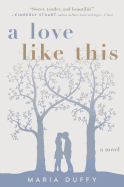 Irish novelist Maria Duffy (In Search of Us) has crafted a charming, suspenseful romance in A Love Like This. William and Donna were born on the same day in the same Dublin hospital, and spend their whole lives almost meeting. Will Cooper-Smith is raised in an affluent suburb by his stern lawyer mother, while Donna O'Neill is mostly raised by her elder sister, Tina, as their mother descends into an alcoholic stupor. Will and Donna cross paths briefly in childhood; as teenagers, they nearly meet when Tina gets a job cleaning the Cooper-Smith house.
Then as adults, when something shocking shatters Will's life, he quits his mother's law firm and heads to Perth, Australia, in search of contentment. Donna, who's been happily working in a bakery, finds herself doing something surprisingly out of character after a tragedy in her own life, and sets off on a trip to Australia and New Zealand.
The tension in
A Love Like This
is the perfect balance to a sweet story. Duffy has created a believable series of near misses; readers will wonder if Will and Donna will finally meet. The descriptive journeys through Western Australia and New Zealand are a delightful and exotic contrast to Will's and Donna's everyday lives in Dublin. A story of overcoming odds and tragedy in search of love,
A Love Like This
will make even the most cynical skeptic want to believe in love at first sight, and is sure to appeal to fans of Jane Green or Cecilia Ahern. --
Jessica Howard
, bookseller at Bookmans, Tucson, Ariz.