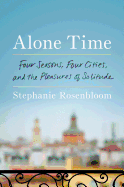 Solo travel is on the rise. From backpackers in their 20s to retirees on world tours, more people are planning and taking solitary journeys than ever before. On a five-day solo assignment in Paris, journalist Stephanie Rosenbloom discovered not only new boulangeries and gardens, but a slightly different version of herself: "curious, improvisational, open to serendipity." Hoping to capture more of that "savoring" spirit, Rosenbloom booked solo trips to four vibrant cities: Paris, Istanbul, Florence and her hometown, New York City. Alone Time, her first book, charts her ramblings and provides practical tips and inspiration for readers who love--or think they might love--traveling alone.
Rosenbloom dives into her journeys with joy and curiosity: well-known tourist haunts and obscure side streets are equally fair game. She eavesdrops on fellow shoppers at Parisian markets, visits a scalding Turkish
hamam
(bath) in Istanbul, explores a secret corridor connected to the Uffizi and gets happily lost in the tangled streets of the West Village. She also shares insights gleaned from literature, social science and cultural critics on the benefits of solitude. Occasionally she takes a wrong turn, literal or otherwise, and finds her way back: this, too, is part of the journey. Back home in Manhattan, Rosenbloom puts her newfound savoring strategies into practice: taking long walks, trying new things, relishing ordinary moments in her own neighborhood.
Alone Time
is both a paean to its title and an invitation to anyone who has ever longed to explore a new city
á seul
. --
Katie Noah Gibson
, blogger at
Cakes, Tea and Dreams