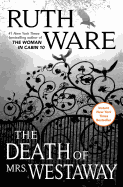 Ruth Ware (
The Woman in Cabin 10
,
The Lying Game
) has written another gripping thriller in
The Death of Mrs. Westaway
. Twenty-one-year-old Harriet "Hal" Westaway has been barely surviving since the death of her mother, Margarida, three years earlier. Hal took over Margarida's tarot booth on the Brighton pier and reads cards for a living, but fortune-telling isn't bringing in enough to cover rent. So when a letter arrives telling her that she's received an inheritance after the death of her grandmother Harriet Westaway, she can't resist the temptation, even though she knows Margarida's parents died before Hal was born.
She heads to Cornwall for the funeral, posing as a surprised and bereaved granddaughter, and meets the strange Westaway family: there are three brothers--Abel, Harding and Ezra--with families of their own, and a malevolent housekeeper. As her charade gets more complex, Hal finds herself drawn into the disturbed lives of the Westaways.
Creepy and atmospheric,
The Death of Mrs. Westaway
will keep readers on the edge of their seats. Ware spins a convincing web of intrigue and tension, as Hal tries frantically to unlock the mysteries of the past. She comes to realize that Abel and Ezra have secrets they're trying to conceal, and while Harding seems straightforward, he is bitter about how Harriet Westaway disposed of her estate. Unsure whom to trust, Hal will have to rely on the people-reading skills she's honed in her tarot booth if she's going to survive. --
Jessica Howard
, bookseller at Bookmans, Tucson, Ariz.