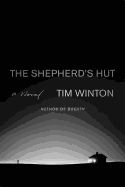 Set among rugged Western Australia's salt lakes, Tim Winton's The Shepherd's Hut is a parable-like story featuring 15-year-old narrator Jaxie Clackton and defrocked Irish Catholic priest Fintan MacGillis. Jaxie is on the run after the accidental death of his abusive father in his auto workshop. No one will miss the violent man Jaxie calls "Captain Wankbag, master butcher, roadkill specialist, drunker than any man alive," but he fears the law will stick it on him. With a rifle and water jug, he takes off into the bush, finally stumbling dehydrated and starving into the rudimentary camp of Fintan ("...old fella. Mostly bald.... Singlet. Baggy-arse shorts. Thick specs"). During their first days together, they verbally parry and punch like boxers in the first round. In the canny vernacular of the skateboarder teen: "I was burred up and narky as a feral cat.... If he doesn't bury me out here he'll dob me in to the cops." In time, however, Fintan's patience, philosophical skepticism and simple if harsh world provide Jaxie with his first meaningful home and father.
Having four times won the country's acclaimed Miles Franklin Literary Award and twice been shortlisted for the Man Booker Prize (
The Riders
,
Dirt Music
), Winton is the unofficial Australian novelist-laureate.
The Shepherd's Hut
lives up to the accolades. Crude, observant and smart mouthed, Jaxie is an outback version of Huck Finn crossbred with Holden Caulfield. Selfless, attentive, savvy and patient, Fintan is that priest everyone might wish for. Together they cover each other's weaknesses and uncover hidden strengths. --
Bruce Jacobs
, founding partner,
Watermark Books & Cafe
, Wichita, Kan.