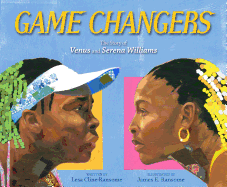 Award-winning author/illustrator team Lesa Cline-Ransome and James E. Ransome's (
Before She Was Harriet
) newest nonfiction picture book pays tribute to two of the world's most impressive athletes: tennis stars and sisters Venus and Serena Williams.
"Venus and Serena Williams, two peas in a pod, best friends.... Whatever Venus did, Serena followed. So when their father took Venus to the tennis court to begin lessons, Serena begged to go along." People in their neighborhood laughed at Richard, "with tennis ambitions and a Compton address," but still he pushed his girls for excellence. "It wasn't long before their father's dreams became their own."
As the girls grew older, their dedication to tennis never wavered. They didn't have "expensive training equipment and professional coaches" so they made up their own drills, throwing footballs, dancing ballet and tossing racquets into the air. Playing on the public courts of Compton meant the girls were invisible to the tennis circuit. But "when Venus won every single one of her sixty-three junior tournaments by age ten... word of the Williams sisters spread." The girls won more and more and, within three years of Serena playing her first professional match, "both girls ranked in the top fifty."
The Ransomes' work follows the "[l]ong-legged, brown-skinned, beaded cornrowed sisters" through 2002, when Venus and Serena faced each other in the finals of the French Open. The illustrations glory in the sisters' brown skin and colorful clothing, making them prominent "in a sea of white tennis attire, white fans, and white opponents." Every page is splashed with vibrant color and eye-catching patterns, and the figures of the women themselves are full of energy, speed and tension. An afterword, selected bibliography and source notes round out this incredible tennis life story of "two of the most popular athletes in history." --
Siân Gaetano
, children's and YA editor