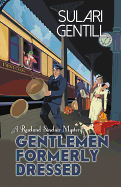 Rowland Sinclair, the artistic black sheep of the conservative and wealthy Sinclair family, is in London--as is his older brother, Wilfred. Wil is there as Australia's representative at the London Economic Conference of 1933. Rowland and his avant-garde collection of friends have fled Germany, after Brownshirts broke Rowly's arm and burned a swastika into his chest during adventures depicted in Paving the New Road.
Rowly and his friends--Clyde, a fellow painter, Milton, a poet, and Edna, a sculptress--are desperate to tell someone in English authority about the atrocities they witnessed in Germany, so Wil gets his brother an audience with Viscount Pierrepont, an important member of Britain's delegation to the economic conference. But when Rowland goes to meet Pierrepont, he finds him dead: wearing a women's nightgown, impaled on a massive sword and with his hysterical niece screaming over the body.
Wil wants Pierrepont's murder hushed up, because it could damage the conference. But Rowly and his entourage are alarmed by the plight of Pierrepont's niece--now a suspect--and so they begin to investigate.
With fast pacing, madcap characters and intriguing historical personages like H.G. Wells, Evelyn Waugh and Winston Churchill making appearances,
Gentlemen Formerly Dressed
is historical mystery at its most fun. Sulari Gentill has managed to capture the odd decadence of the British upper classes, in stark contrast to the rising fascist factions in both Germany and England. Fascinating history, entertaining characters and a hint of romance make
Gentlemen Formerly Dressed
irresistible. --
Jessica Howard
, bookseller at Bookmans, Tucson, Ariz.