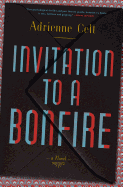 Adrienne Celt, novelist, cartoonist and delightfully self-described "friend to imaginary people and animals," proves an equally good friend to the living with Invitation to a Bonfire. An intimate character study and twisted psychological saga, Bonfire is wrapped in the distinctive atmosphere of 1930s Russia and the East Coast American upper class.
An opening note identifies the work as the project of an elite New Jersey all-girl boarding school, told through a compilation of documents posthumously donated by a benefactor--diary entries of a young Russian refugee and letters from an infamous Soviet author to his wife. The note cleverly teases the death and deception to follow as the paths of the two cross with fatal consequences.
Zoya is a war orphan smuggled into the United States and dropped at the Donne School with threadbare clothing and $10 to her name. Zoya's 1931 diary exquisitely recounts her difficulties fitting in while surrounded by cruel girls from wealthy families. Leo Orlov is steered to literary success by his calculating wife, Vera ("[s]harp as a tack... [c]old as a Frigidaire"), ultimately landing at Donne as a visiting professor and seducing Zoya. When Leo temporarily returns to Russia, his wife and mistress undertake a manipulative friendship, partially at his behest.
Celt (
The Daughters
) writes in beautiful detail, particularly within Zoya's diaries, which exhibit a detached coolness that renders her captivatingly enigmatic. Leo's letters to Vera are adoring, yet cunning in their own right. Filled with characters of unreliable passion and motive,
Bonfire
smolders with intrigue through the final reveal. --
Lauren O'Brien
of
Malcolm Avenue Review