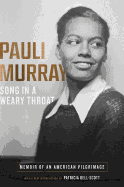 Pauli Murray (
Proud Shoes
) was a civil rights activist, labor organizer and poet, the first African American to get a Doctor of Juridical Science from Yale. Her autobiography,
Song in a Weary Throat
, was first published in 1987. Popular interest in her life and work has inspired this new edition, with an introduction by scholar Patricia Bell-Scott (
The Firebrand and the First Lady
).
It might be tempting to see Murray's energy and vision as inexhaustible, if it weren't for the title she chose for this book. Born in 1910, she was raised in North Carolina by her supportive Aunt Pauline in an enterprising, book-loving extended family. She was "a thin, wiry, ravenous child, overly active and eager to please but strong-willed and irrepressible." As an adult, she was much the same. She worked from an early age, first at chores and paper routes, then in a series of starvation-wage service jobs while attending Hunter College in New York City, until she got her first good job, with the Works Progress Administration. A whim took her to try her fortune in California, but when she learned her aunt was sick, she hopped freight trains to get home.
She omits her love life--for that, and her struggles with gender identity, readers must look elsewhere. She was on the front lines of her times. She knew bright lights of the Harlem Renaissance and the civil rights movement, had a long friendship with Eleanor Roosevelt, served on the board of the new ACLU and helped found NOW. Readers can always appreciate another inspirational hero out of the past, and Pauli Murray's time may have finally arrived. --
Sara Catterall