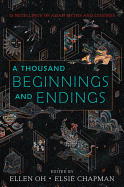 With A Thousand Beginnings and Endings, editors Ellen Oh (Spirit Hunters) and Elsie Chapman (Along the Indigo) deliver a captivating collection of East and South Asian myths and legends written by 15 renowned #ownvoices middle-grade and young adult authors, including Roshani Chokshi, Melissa de la Cruz and Cindy Pon.
The short stories in A Thousand Beginnings and Endings come from the Filipino, Chinese, Hmong, Punjabi, Vietnamese, Gujarati, Korean, Japanese and South Asian traditions. In Cindy Pon's "The Crimson Cloak," a feminist update to a Chinese legend gives a formerly silenced goddess a voice; Preeti Chhibber's "Girls Who Twirl and Other Dangers" is an interpretation of a Gujarati epic in which the divine battle between good and evil is played out on the dance floor during a Hindu festival. Each selection is followed by a short exposition by the author about the origin of the story and their connection to the work.
The countries and social identities from within the Asian diaspora represented in this collection act as mirrors for readers who rarely get to see themselves in Eurocentric myths, legends and stories. Many of the stories in this compilation were passed down through oral tradition, and their reinventions here, specifically by Asian artists, mark a step forward in nuanced representation. With native languages, pop-culture references and an abundance of food imagery throughout, the stories have universal themes that also highlight important cultural distinctions.
Intentional and brilliantly curated, this collection should be given its rightful place on shelves alongside other celebrated explorations of humanity, unrequited love, warring deities and undying hope. --
Breanna J. McDaniel
, author, freelance reviewer