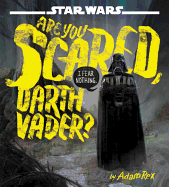 It's Adam Rex's (
Nothing Rhymes with Orange
) turn to take on a pop-culture figure from the
Star Wars
franchise in
Are You Scared, Darth Vader?
Darth Vader finds himself faced with a wolf man, a vampire, a "spooky ghost" and a witch, as an omnipresent narrator repeatedly asks if he's scared. With his trademark stoicism, Darth Vader is
not
scared, and is confused as to why he should be. "It's a wolfman. Are you
scared
, Darth Vader?" the narrator taunts. "I am not afraid of a wolf, and I am not afraid of a man," Vader responds. "It could bite you," the narrator counters. "It could not," Vader says. "I am wearing armor." Vader fears nothing, including spiders, black cats, public speaking and the dark.
The narrator invites the creatures to remove their costumes, revealing children who climb all over Darth Vader and steal his light saber, making him "most displeased." The children eventually exit but the narrator points out one child still present: the reader of the book. This child has the power to end the story, trapping Darth Vader in the pages, "[a]lmost like [he's] frozen in carbonite or whatever." Now a certain someone is scared.
Rex keeps the voice of the narrator light as he plays up the somber quality of Darth Vader, balancing his trademark humor with Vader's weighty history. Readers familiar with Star Wars will see the nods to other items in the canon, adding another layer of delight. With its similarities to titles like The Monster at the End of This Book and We Are in a Book!, Rex's Are You Scared, Darth Vader? is wry, charming and great for newbies and seasoned Star Wars fans alike. --Clarissa Hadge, assistant bookstore manager, Trident Booksellers & Cafe, Boston, Mass.