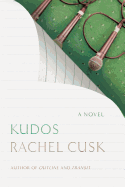 Rachel Cusk's trailblazing novel Kudos begins with a deep conversation among strangers on a plane and sustains the same searching, sometimes surreal spirit of travel until its last indelible passage.
Kudos
is the last in a trilogy of novels, after
Outline
and
Transit
. The first-person narrator, an English writer named Faye, is headed to a writers conference in Berlin and along the way meets a host of characters: strangers, other writers, journalists, old acquaintances. In between these encounters, Faye ponders her divorce, her second marriage and her relationship with her son. These personal concerns are interwoven with questions of art, literature, representation and womanhood in modern Europe. The elusive nature of success is also a major theme.
Kudos works like a panoply of postmodern parables. Each character gives their own story as Faye nears her destination. A male colleague is praised by peers for his writing that focuses on domesticity rather than archaic male subjects. A female journalist discusses the fraught realities of sex appeal and power politics in her field. Faye muses on her own brand of feminism, which allows her "to get the better of those laws... by living within them."
It's clear Faye is on a journey, in more ways than one, but
Kudos
's oblique, manifold narrative precludes drawing any easy conclusions about its characters or their destinations. It's the mysterious nature of storytelling--the narrator's self-conscious interplay between internal and external voice--that makes
Kudos
such a fascinating and memorable read. --
Scott Neuffer
, writer, poet, editor of
trampset