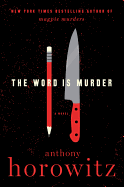 Author and screenwriter Anthony Horowitz has just completed the manuscript for A House Called Silk, the first Sherlock Homes novel officially commissioned by the Arthur Conan Doyle estate, and he's looking at rewrites for his script of Tintin 2, to be directed by Peter Jackson. But before he can commit to his next project, he's approached by Daniel Hawthorne, a detective inspector who advised Horowitz on a TV drama, to collaborate on a true crime book about the case Hawthorne is investigating.
A woman named Diana Cowper walked into a mortuary to make arrangements for her own funeral, and six hours later she was murdered inside her home. How did she know her death was imminent? Or did she?
Despite Hawthorne's prickly nature, the case intrigues Horowitz. He agrees to shadow the detective and write up an account of the investigation, whatever its outcome.
While everything in the first sentence of this review is true of Horowitz, in real life and in
The Word Is Murder
, Hawthorne and Cowper are fictional, though they interact with Horowitz in the book. Confused? No worries. Horowitz makes it all clear while weaving fact with fiction in a novel way and poking fun at himself, relegating his alter ego to playing Watson to Hawthorne's Holmesian detective. Fans of Horowitz's screen work will get a kick from the multiple references to the films and TV shows he's written (
Injustice
;
Foyle's War
). None of this meta story would work, however, if the central mystery isn't satisfying, and it is. The word is clever. --
Elyse Dinh-McCrillis
, blogger at
Pop Culture Nerd