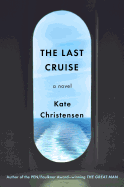 It may come as no surprise that Kate Christensen, food blogger and author of the gastronomy memoir Blue Plate Special, sets her seventh novel, The Last Cruise, in a galley aboard the 1950s cruise ship Queen Isabella. The pampered guests on a roundtrip voyage to Hawaii gather to embark in Long Beach, Calif. Among them is a geriatric Israeli string quartet of Six-Day War veterans, including violinist Miriam. In her 70s, Miriam is still feisty enough to have a crush on the group's recent widower cellist--and is prepared to act on it during their carefree cruise.
On a work/play junket, 34-year-old Maine farmer Christine agrees to accompany her New York City friend Valerie, a webzine editor doing a story on the world's working class. Valerie plans to drink and schmooze her way through the rank and file while Christine enjoys a break from farm drudgery to dress for dinner and read from the shipboard library's collection of classic Waugh, Wharton and Wodehouse.
The ship's Hungarian sous-chef, Mick, oversees the fresh produce and luxury meat cuts stowed to satisfy a vintage menu heralding '50s decadence. He and the largely immigrant coterie of workers berthed on the lower decks are charged with providing the upper deck hoity-toity a retro experience. After the cruise, however, they are all being sacked, as the global corporate owner of the Isabella plans to send it to the scrapyard.
Like many novels of isolated microcosmic societies,
The Last Cruise
slips from a romantic storybook idyll to a struggle between haves and have nots. In the process, Christensen delivers an engrossing tale that reveals the fragile veneer of civilization. --
Bruce Jacobs
, founding partner,
Watermark Books & Cafe
, Wichita, Kan.