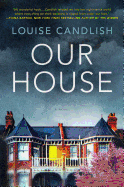 Our House by Louise Candlish is an artful, absorbing thriller that proposes a new level of fear--the fear of losing the one thing that many of us take for granted: our home, our sanctuary.
Fiona and Bram are lucky to own their dream home on picture-perfect Trinity Avenue, in an upwardly mobile London suburb. Sky-high property prices have rendered them millionaires, along with their neighbors. All of their savings and Fi's spare time are poured into renovating and updating the house. A stunning magnolia tree in their front yard symbolizes the life they have built for themselves and their two young sons. Even when things fall apart between Fi and Bram, the magnolia tree stands magnificent, a testament to their intact family home. It's when that home, the center of their family, is sold from under her that Fi finds herself in free fall.
Candlish (The Swimming Pool) has embarked on a daring and ingenious form of storytelling. Fi's version of events is relayed in the form of a podcast in which each episode is a true-crime event told in the words of the victim. Candlish explores what happens when the home that is the fabric holding one's family together slips through one's fingers. How important is the house, anyway? Fi calls the Trinity Avenue house her family's "primary breadwinner." It was so much more than a shelter for her--for better or for worse, it's her family's identity.
Our House
is a tempting slice of London life packed with intrigue, suspense and beautifully flawed characters, a winning formula with the added bonus of a cautionary tale about investing too much of ourselves in the outward trappings of success. --
Shahina Piyarali
, writer and reviewer