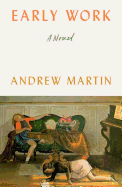 Funny and trenchant, Early Work is the story of a love triangle among ambitious but lethargic aesthetes. In Andrew Martin's first novel, unpublished writers, unproduced playwrights, unemployed actors and literary hangers-on mingle in the bars and literary soirees of Charlottesville, Va. Peter narrates most of the tale. Living with his fiancée, Julia (an aspiring poet and medical student), he imagines writing a great novel while teaching at the local community college. A Ph.D. drop-out from Yale, he dawdles with drinking and smoking weed while Julia holds their household together. When he meets Leslie, an MFA graduate taking a break from her Montana fiancé, their free-spirited lust gets the best of them. More booze, more dope and lots of uninhibited sex unseat their presumptions about commitment--to their partners and to writing. Something's gotta give.
A University of Montana MFA graduate, Martin takes on the boozy world of writers with the panache of J.P. Donleavy's classic bawdy tale of intellectual debauchery
The Ginger Man
. Martin's characters wallow in what Leslie describes as "baseball and arrogant French New Wave movies and... I don't know, Otis Redding, too."
Early Work
may be mostly filtered through Peter's snarky wit and cynicism, but it is Leslie who is the no-BS voice of truth. As she tells Peter: "You should be a writer. You should f**king write something down on a piece of paper." We are lucky that the talented Martin followed her advice. --
Bruce Jacobs
, founding partner,
Watermark Books & Cafe
, Wichita, Kan.