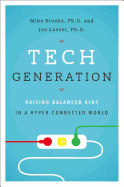 Tech Generation: Raising Balanced Kids in a Hyper-Connected World by Mike Brooks and Jon Lasser is a welcome addition to the growing field of developmental psychology addressing the challenges of parenting in our tech-saturated times. While much has already been written about harnessing the positive aspects of technology while avoiding the negative impact of too much screen time on children's lives, Tech Generation still has plenty of new and fresh material to offer parents.
Brooks and Lasser advance their Tech Healthy Life model of cultivating a healthy relationship with technology using some crucial reminders: we must be the change we want to see in our children, a variation of Gandhi's advice to "be the change you want to see in the world." Parents must model a balanced, controlled and healthy relationship with their own screens before expecting their children to do the same. Secondly, our influence as parents is strongly dependent on the quality of the relationship we have with our children.
The authors offer practical advice paired with an empathetic understanding of day-to-day realities: busy parents, the powerful lure of games and social media on growing brains and the increasing dependence on technology at school. Topics such as authoritative parenting, mindful engagement with technology and the difference between parental monitoring and electronic surveillance are addressed with thought-provoking insight.
Every generation of parents faces child-rearing challenges. For parents of young children and teens today, maintaining a healthy relationship with technology is one of the principal challenges of our times. --
Shahina Piyarali
, writer and reviewer