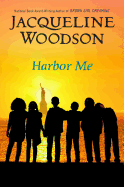 "[T]he school wanted to try something new: Could they put [six] kids together in a room with one teacher and make something amazing?" For Ms. Laverne's fifth/sixth grade Brooklyn, N.Y., class, the answer is a resounding yes. Deemed "special kids," Haley, Holly, Ashton, Amari, Tiago and Estaban "learned differently." To enhance their regular schedule, the six are ushered every Friday afternoon into a former art room, cleverly renamed the "A-R-T-T room--A Room To Talk," and encouraged "to talk about the things kids talk about when no grown-ups are around."
The children are initially unsure how to interact, but compassionate concern quickly unites them when Estaban's father goes missing: Ms. Laverne's empathic lesson, "I want each of you to say to the other: I will harbor you," is already well-ingrained. Safe in ARTT, the children share such things as U.S.-born Estaban's worries for his parents, immigrants from the Dominican Republic; Amari's restricted freedoms as an African American youth; Ashton's discomfort with white privilege and his struggles with bullying; Tiago's clashes with racism despite being Puerto Rican and therefore American; Holly's challenges of everything she considers "unfair." Haley, the book's narrator, records the group's stories until she's finally ready to share her own difficult experiences.
In her first middle-grade novel since her 2014 National Book Award winner,
Brown Girl Dreaming
, National Ambassador for Young People's Literature Jacqueline Woodson deftly alchemizes a sixth-grade classroom into an affecting metaphor for racial, political and socioeconomic challenges--enhanced by the transformative power of storytelling: "what matter[ed] most is that we were heard." Bonded and buoyed by their shared "
stories on top of stories
," Woodson's sextet commit to meet again in 20 years; readers should start praying now to be privy to what promises to be an astonishing reunion. --
Terry Hong
,
Smithsonian BookDragon