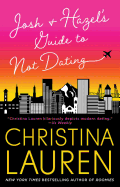 Hazel Bradford knows she's a lot to handle. She's loud, has a crazy, quirky sense of style and loves doing absurd things. She's a third-grade teacher, and eight-year-olds are basically her life. A lot of guys have been scared off over the years, but she would rather be herself than change for a boyfriend.
Then, Hazel discovers that Emily, a new co-worker, is the sister of Josh Im, Hazel's crush in college--until she threw up on his feet at a party. Emily, who thinks Josh's life is too dull, suggests that Josh and Heather hang out, just as friends. Hazel is enthusiastic, and Josh reluctantly agrees, only to discover that his world is about to be turned upside down.
Hazel and Josh start setting each other up on a string of double dates, although, strangely, they always find themselves having more fun with each other than their dates. There's definitely nothing going on between Josh and Hazel, right?
Hilarious, sweet and refreshing,
Josh & Hazel's Guide to Not Dating
is a nearly perfect romance. As Josh delves into Hazel's eccentric habits, and she learns more about his traditional Korean mores, they find unexpected connections and realize that maybe opposites do attract. Christina Lauren (a combined pen name of Christina Hobbs and Lauren Billings) has created a funny, smart and dynamic heroine who attracts a quiet and kind hero. --
Jessica Howard
, bookseller at Bookmans, Tucson, Ariz.