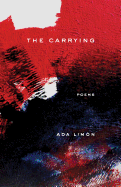 Ada Limón is one of the country's finest poets. Her previous collection, Bright Dead Things, was a National Book Award finalist. The Carrying won't disappoint fans. The 62 poems in this stellar new collection, divided into three sections, offer candid, lyrical observations on love, loneliness, life, death and all the mysteries in between. Central to the collection is the poet's attempt to conceive a child. This subject lends itself to some uncomfortable, even painful, moments. "I want him to notice what he said, how a woman might feel agony,/ emptiness," the poet writes in "Mastering," when a male friend unwittingly highlights his own child over the poet's failed attempts. But these travails also lead to resilience and greater love of her husband, her art, her dog, her garden--as she says in "Maybe I'll Be Another Kind of Mother," "everything coming back to life."
Of course, Limón could never be satisfied with one subject. Her poems are like trees, branching three-dimensionally in myriad directions. She performs a near-miraculous feat in balancing razor-sharp imagery with deep ambivalence. Hope, though, is a pervasive theme. Several of the poems hail from the beginning of the Trump era and offer a kind of protest. Fear, hurt and anger show in "Killing Methods" and "A New National Anthem." But in the same breath the poet, true to her compass, shows how compassion and vulnerability may be the best defenses against tyranny.
It is this undying insistence on the goodness of the world that stays with the reader.
The Carrying
beautifully conveys the power of poetry in an age that needs it most. --
Scott Neuffer
, writer, poet, editor of
trampset