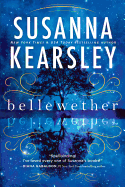 Susanna Kearsley (
Season of Storms
) is known for seamlessly blending sweeping historical sagas with modern-day dilemmas, and
Bellewether
is no exception. Charley Van Hoek has just accepted a position as curator at the soon-to-be Wilde House Museum. The historical Wilde House on Long Island has stood for centuries, and Charley is excited to unlock its secrets. But as she begins sifting through documents and artifacts in order to help create the new exhibits, Charley notices some strange phenomena in the house. Local rumor has it that Lydia Wilde, who lived during the Seven Years (French and Indian) War, had a French lover who was killed by her brother, and that his ghost haunts the house to this day.
In the part of the book set in the 1750s, Lydia Wilde and her father and brothers are still mourning the recent death of her mother when two French prisoners-of-war are quartered in their Long Island home after a British victory. To her dismay, Lydia finds herself drawn to French-Canadian Lieutenant Jean-Philippe de Sabran.
With meticulous research into a fascinating segment of colonial America,
Bellewether
is historical fiction at its best. The chapters alternate between Charley's modern problems (a new job, a self-centered boyfriend) and Lydia's earlier struggles (two brothers chafing under her father's rules, her unfortunate attraction to one of the enemy). Readers of Kate Morton or Lauren Willig are sure to enjoy
Bellewether
, as will anyone interested in early American history. --
Jessica Howard
, bookseller at Bookmans, Tucson, Ariz.