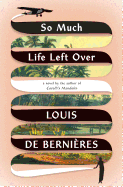 Louis de Bernières (
Notwithstanding
,
Corelli's Mandolin
) braids together stories of how a group of neighbors who grew up together near London are affected by the tides of World War I and World War II.
So Much Life Left Over
opens in 1925, when Daniel Pitt--an RAF flying ace and the owner of a tea manufacturing company--his wife, Rosie, and their young daughter are settling into civilian life in Ceylon (Sri Lanka). When the couple suffers a devastating loss, Rosie turns away from her husband and inward, toward her faith in God, while Daniel's restlessness leads him astray.
As the couple's marriage unravels, the narrative widens to include stories about their families: Daniel's lovelorn, veteran brother and Rosie's parents and her three sisters--and their significant others--and how they are faring back in England. This includes childless Sophie, who is a minister's wife setting off for India; Ottilie, a spinster who falls for a naval officer; and Christabel, a bohemian artist. When the sisters are reunited after their father's death, shocking discoveries surface about love, loyalty and betrayal.
Civilian life and how some find peacetime intolerable when juxtaposed against the glories--as well as the loss, death and destruction--of war emerge as central themes. This novel, comprised of pitch-perfect scenes and multiple perspectives, is a companion to de Bernières's
The Dust That Falls from Dreams
. Readers do not need to read the earlier book in order to appreciate this installment, but by doing so, they would certainly enrich their pleasure. --
Kathleen Gerard
, blogger at
Reading Between the Lines