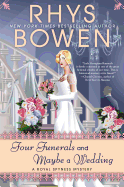 Rhys Bowen, author of the Molly Murphy and Her Royal Spyness mystery series, returns to England with Lady Georgiana Rannoch in Four Funerals and Maybe a Wedding. The 12th of Lady Georgiana's adventures, but easily read as a standalone, this takes place in 1930s England, on the eve of Georgie's marriage to impoverished Irish lord Darcy O'Mara.
Georgie, cousin of the king of England, has to renounce her place in the royal line in order to marry a Catholic, but she is happy to do so. She's less thrilled when the king and queen invite themselves to her wedding, and assume she's inviting half the royal houses of Europe as well. Since Georgie is just as poor as Darcy, with only her regal name and an empty pocketbook, she's at her wit's end, when her previous stepfather (one of her mother's many ex-husbands) offers her the chance to live for free at his estate, Eynsleigh.
Georgie jumps at the chance, only to discover shifty servants and strange activities, which make her extremely nervous. Trying to play lady of the manor, Georgie attempts to make the servants do what they ought, but she begins to suspect that sinister things are happening at Eynsleigh.
Fast-paced, funny and full of royal cameos,
Four Funerals and Maybe a Wedding
is a delightful historical mystery. Georgie and her no-nonsense approach to life, plus her hilarious schemes to stay afloat financially, will keep the readers chuckling as she follows her suspicions. --
Jessica Howard
, bookseller at Bookmans, Tucson, Ariz.